Saisaki
Japanese buffet restaurant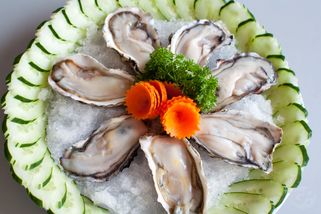 Saisaki
Jumbo oysters

Saisaki

Buddha jump over the wall

Roast lamb

Salmon sushi

Shrimp

Steamed pomfret
Japanese buffet restaurant
Cuisine: Japanese
Saisaki, founded in 1999 is a Japanese buffet restaurant that features a wide selection of dishes from popular favourites such as sushi and sashimi to delicacies such as fresh oysters and prawns. All the food here is prepared fresh daily, and the dishes that are offered are rotated all the time. Saisaki at UOA is big and spacious, with a seating capacity of 270 pax, there's space for huge crowds, even on the weekends. Thanks to floor to ceiling windows in place of walls, there's bright, natural sunlight streaming through, making the restaurant vibrant and comfortable to dine at. There are also many Japanese themed deco around, for example, sakura flowers that line the wooden dividers.
Pork-Free
Wifi Available
Valet Parking Available
Smoking Facilities Not Available
Vegetarian Dishes Not Available
Outlets 3
Reviews
Shogun @ One Utama Review
Shogun used to be one of the better...
Shogun used to be one of the better buffet places. Which unfortunately in the recent years, standard has gone down and from a supposed Japanese buffet, it is now a mixed/fusion of foods and everything is pretty much mediocre. That being said, It is at an affordable price. So if you are not really picky with the taste, you can eat till your heart's content.
Permalink to Review
Shogun @ One Utama Review
Everything are so average here. Wil...
Everything are so average here. Will I come here for buffet personally,the answer are no. I came here numerous time due to my colleagues love coming here to celebrate birthday, farewell and etc... Nothing great to shout about as I prefer quality Japanese food
Permalink to Review